Are you looking for the best Airbnb in Ashland, Or? Then you've come to the right place! We've rounded up a list of the top 5 Airbnb options in Ashland. All of these homes are close to the Oregon Shakespeare Festival, downtown plaza, nightlife, shopping, and everything else Southern Oregon's cultural capital has to offer. Save yourself a headache researching where to stay and start by seeing if one of these great Airbnbs is right for you.
Top 5 Airbnbs in Ashland, OR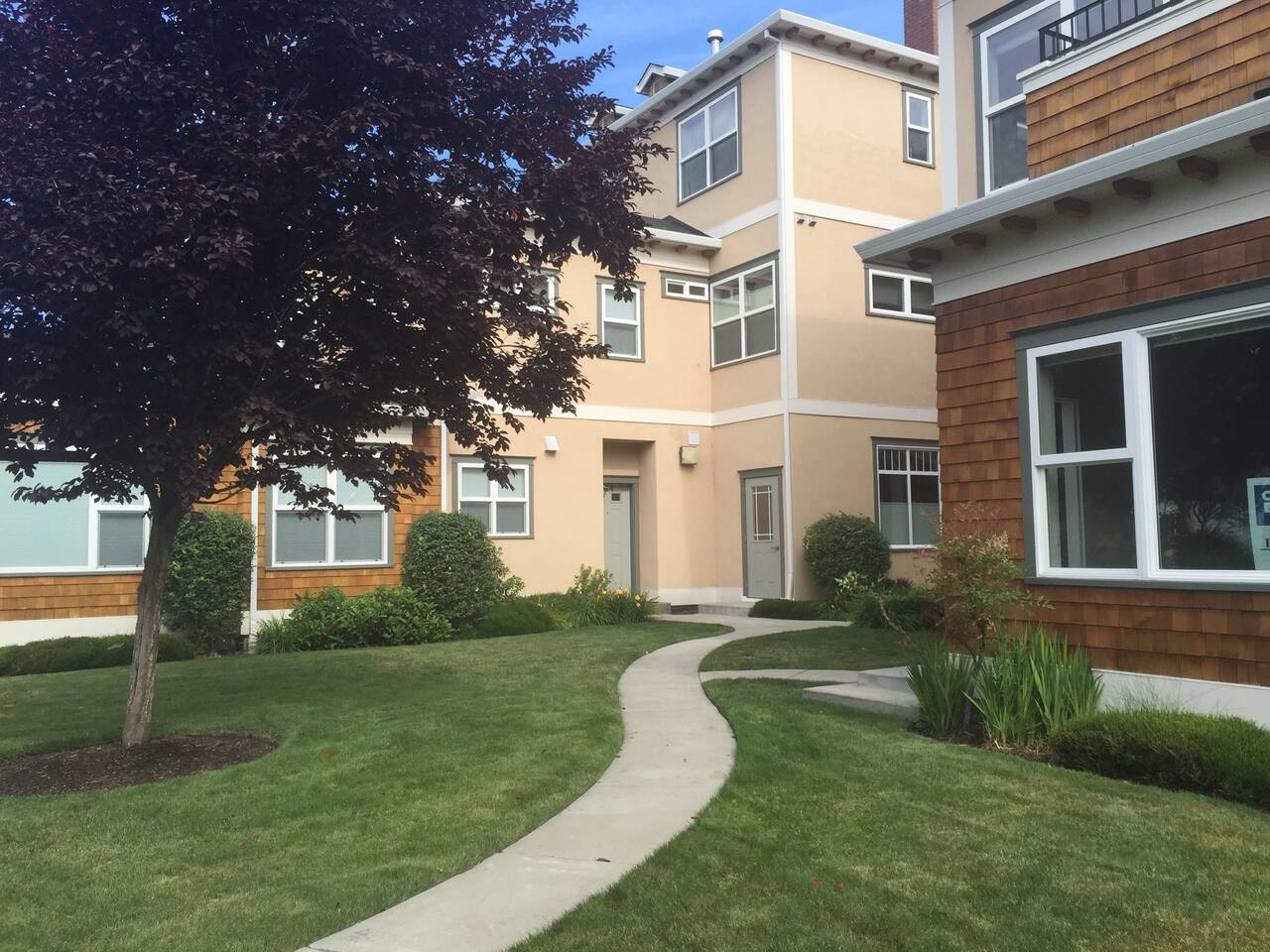 Elegant and contemporary Ashland ground-level condo. This fully furnished upscale condo offers hardwood floors, Quartz countertops, stainless appliances and an awesome view of the courtyard. This condo is located in Meadowbrook Park, just off North Mountain Avenue. Meadowbrook Park is an all ages, pet-friendly community. Located just a few blocks to a 4-acre (dog-friendly) park or a few more to Ashland's North Mountain Park. Just a short drive to Ashland's downtown Plaza, Shakespeare Theatre, and Lithia Park. If you're looking for a home base close to everything Ashland has to offer, look no further!
"Claudia's place is very clean, quiet, comfortable, and stylish! Although you'll probably be eating out at one of the many fantastic restaurants while staying in Ashland, the kitchen is well appointed with everything you could need. Claudia is very receptive to questions and responds quickly. We had a very pleasant stay at Claudia's and will happily return if/when we come back to southern Oregon." -Dana (July 2019)
If you would like to save on those pesky Airbnb fees, you can book this home directly through our website!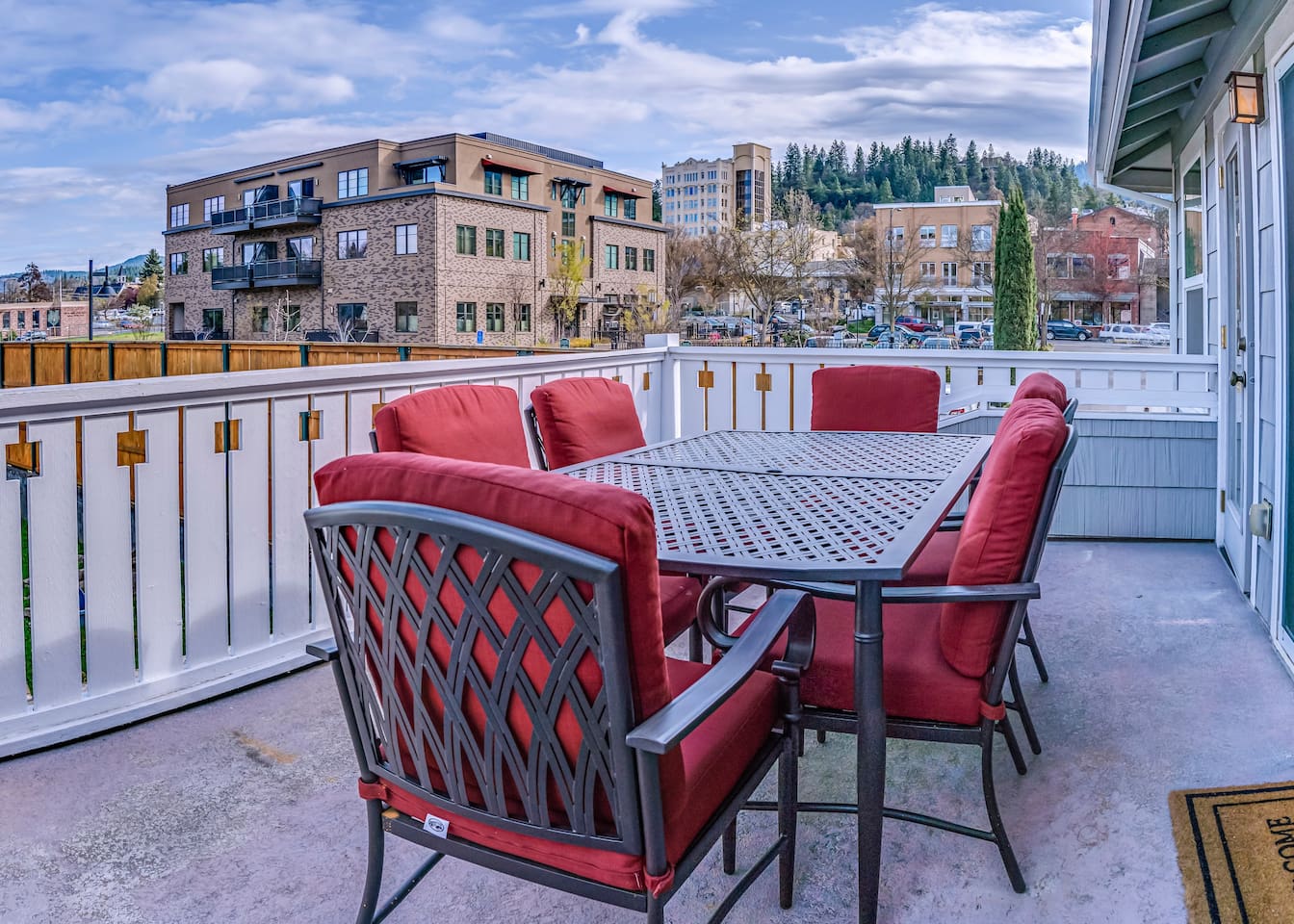 It doesn't get closer to OSF than this! Enjoy a relaxing getaway at the Pioneer House. Built in 2008, this home is adjacent to a historic home and one one of three located on the property. Just one block from the theatre, you'll also have easy access to dining, wine tasting, and shopping. Private, off-street parking makes this home extra special in a charming downtown neighborhood.
What Guests Are Saying:
"I have stayed in homes all over the world, and not one was better than this! Everything was perfectly clean, in order and the kitchen was well stocked with nice pots/pans, great coffee maker, gas stovetop, you name it. We thoroughly enjoyed this space! We even had a little issue with some tiny sugar ants, and Stan the owner was over first thing in the morning to take care of them and even brought a bottle of wine and danishes! We will stay here whenever we can anytime we go to Ashland for the Shakespeare Festival." -Kristina (August 2019)
Just five blocks from the Oregon Shakespeare Festival in a historic Ashland neighborhood, the Blue Moon House has it all! Built in the early 1900s and fully renovated this historic home features five bedrooms, each with its own private bathroom. A gourmet kitchen with a large dining area, a living area with a fireplace, a large 'smart' flat screen television and plenty of seating. Enjoy your afternoons by the gardens and gather with friends on the large deck area.
What Guests Are Saying:
"We rented out Daniel's entire place. The outdoor area was beautiful and had plenty of seating for our whole group and more for breakfast. We also really enjoyed using the professional kitchen and grill! Our large group had plenty of space to spread out and could easily walk to downtown! Such a nice location and place." -Sharice (June 2019)
This is probably the oldest Airbnb in Ashland, OR. The Anne Hathaway House was built in 1908 as a boarding house for travelers. David and Deedie Runkel purchased the home in 2002 and continue to operate it today. Located just four short blocks from the Oregon Shakespeare Festival, the Anne Hathaway House is ideal for large groups of theatergoers, as well as families who wish to spend some vacation time together in Ashland.
What Guests Are Saying:
"We had an amazing stay at Anne Hathaway's cottage. There was plenty of room for 6 people, and we appreciated having so many bathrooms as well. The location can't be beaten, and we enjoyed many afternoons with wine and cheese on the front porch. If we come back to Ashland next year, staying here will be our first choice!" -Jennifer (July 2019)
Walking distance to Downtown Ashland's Historic Railroad District and just a few minutes to Oregon Shakespeare Festival, shopping, nightlife, and the beautiful Ashland Plaza. These stunning homes offer ample parking, elevator, full-size kitchen, full-size living room, high-end furniture with stainless appliances, LVT flooring, granite counters, high ceilings, fiber optic television & internet services, appliances including a washer and dryer, and much more!
What Guests Are Saying:
"We've been traveling to Ashland for over 25 years and stayed and a variety of places. Many places in town are old and tired. Claudia's place was awesome…..brand new but with tasteful amenities. Perfect for 2 couples with comparable beds and bathrooms. Kitchen well supplied and perfect for preparing meals. Far and away, the best place in town." -Donald (August 2019)
This property has several condos available on Airbnb:
And, if you would like to save on those pesky Airbnb fees, you can book one of these homes directly through our website!