When it comes to finding the perfect place to stay, it's nice when someone else does the research for you. That's why we've taken care of the busy work and put together a list of the 12 best Airbnbs in Oregon. From spacious studios near downtown Ashland to luxurious mountain getaways, this list will leave you inspired for an epic Oregon adventure.
Where Are The Best Airbnbs In Oregon? Look No Further
This beautifully decorated vacation home has unbeatable views. Just steps away from the Rogue River, this oasis has a jacuzzi and a beautiful deck for enjoying the outdoors. It also has a spacious living room and dining space. There is a lookout right on the river with a fire pit to enjoy smores with the family. You will not forget this place!
Find log cabin comfort on the slopes of Mt. Hood at this Welches home, an ideal retreat with a wrap-around deck and beautiful views of the surrounding woodlands. You'll enjoy a secluded location on one acre of land, with a private trail that winds through the forest to the Salmon River.
Experience the seclusion and serenity of this large house surrounded by nature. It is located in a private location, with a lake, dune, and ocean view. You will not have to leave the house to enjoy the Oregon Coast, but the dunes and beach access are only a few miles away. (Nearest Sand access is 1 mile to the north, Riley Ranch Coos County Park). The nearest beach is Horsfall, in North Bend, OR, 8 miles to the south.
Walking distance to Downtown Ashland's Historic Railroad District and just a few minutes to Oregon Shakespeare Festival, shopping, nightlife, and the beautiful Ashland Plaza. These homes offer ample parking, elevator, full-size kitchen and living room, high-end furniture with stainless appliances including a washer and dryer, LVT flooring, granite counters, high ceilings, fiber optic tv & internet services, and much more!
We have several units available in Ashland, all within walking distance to downtown. Booking directly from us allows you to save on those expensive Airbnb fees. Check out all of our Ashland vacation rentals here.
This fully furnished upscale condo offers hardwood floors, quartz counter-tops, stainless appliances and an awesome view of the courtyard. This condo is located in Meadowbrook Park, just off North Mountain Avenue. This is an all ages, pet-friendly community. Located just a few short blocks to a 4-acre park and Ashland's North Mountain Nature Center. Less than a 5-minute drive to Ashland's downtown Plaza, Oregon Shakespeare Festival, and Lithia Park.
We have several units available in Ashland, all within walking distance to downtown. Booking directly from us allows you to save on those expensive Airbnb fees. Check out all of our Ashland vacation rentals here.
This is a brand new custom-built house on an organic farm on an island in the middle of a river. Nearby are Sweet Creek Falls, Siuslaw River for fishing, Florence downtown area, sand dunes, and beaches. During fall there are miles of blackberries and plenty of apples from our orchard. This unique home simply had to make the list for the best Airbnbs in Oregon. It is spectacular, and it is real!
Mountain Bear Cabin has a fantastic outdoor space with a hot tub, fire pit, & fully fenced in yard. Game room in the garage. The house is located in a mountain neighborhood with a few neighbors. The Sandy River is a short walk from the house. Two sets of french doors out to the patio and lots of huge windows give a lot of natural light. Perfect for your romantic getaway or a family gathering.
Enjoy a restful time in this waterfront log cabin along the Deschutes River. Location is perfect for watching wildlife, fly fishing, quiet relaxation, and has easy access to hiking and rock climbing at Smith Rock and Lake Billy Chinook. Steelhead Falls is a short hike away. Bend and Sisters are also nearby.
This home is perfect for relaxing after a day of exploring. After a day on the slopes, soak your weary muscles in your private hot tub. Outside, gather around the firepit, whip up some dinner on the grill, or play in the large yard (there is even a one-hole golf course). In the evening, enjoy a drink by the pond, watch the sunset, and take in the view of The Three Sisters mountains. Inside, this home has all the space and amenities needed for your family or group. In the living room, warm up by the gas fireplace as you watch a favorite movie or TV show.
When it comes to the best Airbnbs in Oregon, finding a beautiful retreat for your family and friends is a must. Skiing, fishing or sunbathing on the riverfront. Enjoy the fireplace, cozy living spaces, hammocks, picnic areas, barbecues, and outdoor fire pit. Sleeps up to 10. This is the place to make memories. 4 miles to Detroit Lake & Brietenbush Hot Springs. 30 minutes to Hoodoo Ski Resort.
This home is surrounded by over 3,000 square feet of floating cedar decking – wonderful for fishing or going kayaking on the Willamette River. Gather in the sitting area with an entertainment center. Double french doors open onto the deck & hot tub, where you can take in the view while enjoying your morning cup of coffee. From natural wonders to city sights, Portland and the Pacific Northwest offers something for everyone. This floating vacation home is located just 15 minutes from downtown Portland. Visit the city or explore the great outdoors during your vacation.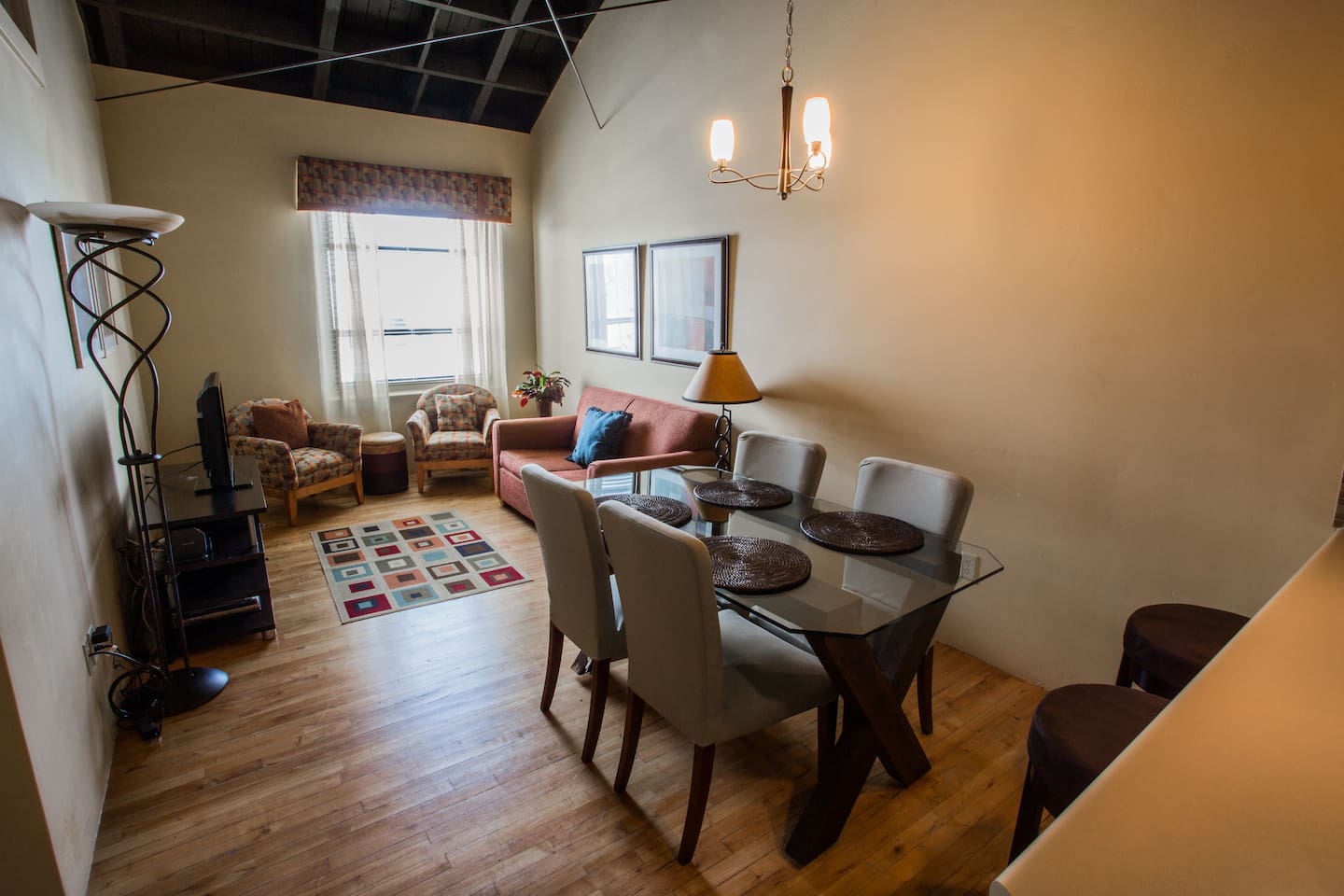 Welcome to the historic Acme Building in the heart of downtown Medford, Oregon. Conveniently located just a few blocks away from most popular restaurants and pubs as well as shopping, and the Craterian Theatre. Acme Suites has 8 contemporary lofts available at the Acme Building.
Booking directly from us allows you to save on those expensive Airbnb fees. Check out all of our Medford vacation rentals here.